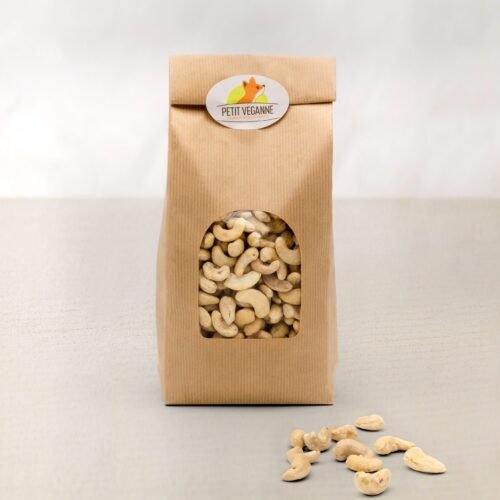 All our creations are compatible with :
ORGANIC / VEGAN / RAW / GLUTEN FREE
Cashew nut pack 1kg
25,90€ VAT INCLUDED
Its sweetness and crunchiness are sure to seduce you...
Description
Our 100% Vietnamese Cashew Nuts are valued by 3 labels and certifications: BIO, FAIR FOR LIFE and FOREST GARDEN PRODUCTS. The mechanical shelling process is one of the strengths of this industry established in Vietnam, which is very well known for its avant-garde know-how. In addition, no animals are exploited on our cashew plantations.
Ingredients
Organic* raw cashew nuts
* From organic farming
Allergen information : Nuts
Conservation
Store your cashews in the refrigerator (between +2 and +4°C) in an airtight container.
They also keep well in the freezer.
Cashew nuts require a temperature of -25°C for an average of 12 months, but can be stored for up to 24 months.
Ideally, they should be vacuum-packed to maximise shelf life.
Delivery
The Raw Organic Cashew Nuts offered by Petit Veganne are raw products from tropical regions which are therefore resistant to temperature variations. They therefore do not require express transport or an isothermal coating. This is why, once your order has been sent, they will be delivered within a week.
Reviews
Notice about the product

See the certificate
9.8/10

Based on 17 reviews
The cashew nuts are quite good. I did get a few damaged nuts with each order.

Excellent! I will recommend it soon.